Don't Let A Late Blast Of Winter Catch Your Business Cold
Business is having a very tough time at present. And all the statistics which are published about the state of the economy point out how much of an effect the weather can have on many companies' fortunes.
Of course, many enterprises know that their sales are dependent on the state of the weather, and as a result they take a great many steps to maximize them when the conditions are favorable to them, while also doing what they can to mitigate the effects of seasonal slowdowns in trade.
Don't count your chickens
But a company which relies on people being able to get to its premises in any weather cannot afford to sit back and expect them to battle through poor weather conditions simply 'because they have to'.
This is especially true nowadays when so many different products can be ordered online, thereby taking away the need for the customer to venture out in bad weather at all. The customer, though, will no doubt still set aside time for shopping, so if they are unable to make their purchases at the time they want to, this is likely to cost the retailer dear.
In this respect, it's therefore vital for any business to do all it can to keep its premises accessible in all conditions. Even on usually quiet trading days, some customers will want to get to visit them, so it's important that an enterprise can stay open during all its advertised trading hours.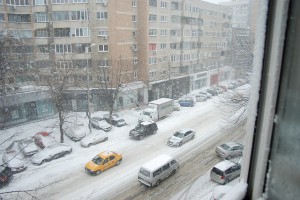 Keeping access clear
This means, where possible, that it takes additional steps to keep access to its premises clear for as long as possible. Little can be done about a sudden downpour of rain – but if snow and ice then occur, there are positive steps which the shop owner or manager can do to minimize their effects. To begin with, if bad weather strikes unexpectedly, this can bring an unforeseen benefit to the canny retailer, as people seek to take refuge from it. At such times, they have to be sure to have all their shop signage kept clear, so that people who might have never previously stepped through their door are made to feel welcome, and that they can find their way around easily, as if the shop owner has given a great deal of thought to how easy it is for first-time visitors to navigate their way around, and find something which interests them.
Proper planning
On an even more basic level, a business should give due regard to the thought that it has a role to play in ensuring that its staff are not impeded on their way into work. So it pays for a designated member of the company's management to take a lead, and get in early to ensure that all accesses are cleared of snow and ice, and any other obstructions.
If a company's top brass is seen to show an example in this way, it can have a positive effect on staff morale in general. In turn, this will mean that potential customers get the welcome they deserve, and will also be shown where to find the items they are looking for. And once they receive such attentive service, they are likely to give that business their custom again – and possibly even tell their family and friends about how well they were treated.
[author] [author_image timthumb='on'][/author_image] [author_info]This guest blog was contributed by Francis Clemming a freelance blogger who often writes about business issues such as how keeping a snow shovel on hand can be invaluable for your business.[/author_info] [/author]
Featured images: 
License: Creative Commons
image source