The First Steps In Starting A Successful Online Business
For those who want to make their own way in the business world, an online business may be a great first step towards independence and a great income. With ecommerce allowing small, online businesses to blossom, if you're interested in starting your own enterprise and making it work for you online, below are the first things you need to do to get started.
What Will Your Business Be?
The first thing any entrepreneur needs to do is figure out what his business will be about, what products or services he plans to offer, and what the business's name will be. Think about what it is that you want to provide people, whether it's a product, a line of products, or a service, and then determine who your target audience will be.
Do you plan on serving people internationally or do you want to hone in on a specific geographical area? The great thing about ecommerce is the fact that you can really reach a worldwide audience very easily and you can attain customers in other countries that you can help by shipping your products to them, as long as it is cost-effective for your company, or by offering your services through a virtual domain.
Once you have all of these ideas and details sorted out, and you have established a business name you want to use, register your business so that your personal assets are protected and so that you can begin sending invoices out with your company name, making payments from the company's bank account, and becoming known as a business entity by customers who are going to use your products and services.
Purchase a Domain and Develop a Website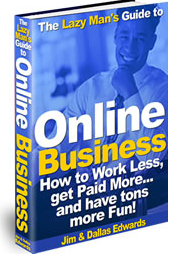 Once you have figured out what your business will be, you need to purchase a domain name, also known more commonly as a .com, for your website. Your domain name should be short and easy to remember, but it should definitely have your company's name, either in part or in full, within it. Whenever people search for your business through search engines like Yahoo and Google, for example, they will be directed to your site, but if you have an easy-to-remember website address, it will be much easier for your customers to go directly to your site without needing to spend time searching for you.
In terms of designing your website, you have several options. You can purchase a web designing program that has all the software you need to learn to develop and launch your site, you can hire a professional website developer who can help you with every step of the process, or you can use one of the many free templates that are available, which allow you to make personalized changes to the theme to make them your own. In the beginning, you may need to consider your budget limitations and go with a free customized template, but as you make some profits, consider revamping your site to make it more streamlined, unique, and all your own.
Once your site is up, you can start doing business and making money.
[author] [author_image timthumb='on'][/author_image] [author_info]Kirsty Jowett is an expert in business development and has helped a huge number of small businesses set up online. Kirsty often visits ecommera.com for more training tips and ideas.[/author_info] [/author]