Are you aware of the latest summer fashion trends? If not, you might end up looking rather boring and unremarkable. In the present article, you will be acquainted with some of the fashion trends that you should follow, during this year's summer.
Spring has already arrived with all its verve and spirit, and a sunny summer is in the offing. Don't look dull, by dressing up in those stereotypical t-shirts and denims on most days of this season! Instead, keep track of the latest summer trends, and accessorize your dresses accordingly. In the upcoming summer months of 2013, these stylish accessories are likely to stand you in good stead:
Floppy hats – Beat the summer heat – the stylish way, by putting on broad-rimmed floppy hats. You can go for the regular variety, or select the ones with designer ribbons and flowers on them. A plain floppy hat can be an awesome beachwear accessory, while its more decorative counterparts can go well with party outfits.
Bright colours – Be it a Shift dress, a Maxi dress, or a regular sundress – bright colors are in, and this is one fashion trend you should definitely follow. Neon dresses, in particular, find uniform favor among ladies from all over the world. If you find outfits in single colors to be just a bit boring, simply pick those that have multi-colored designs and patterns.
Lend your feet a bejewelled appearance – Have a thing for trendy jewelry? This summer, you can easily think beyond the stereotypical necklaces, earrings and bracelets. Classy strapped footwear, with gemstones attached to them, are available at most leading fashion stores. Make sure that the color of the stones match that of the dress you have put on. Buy a couple of pairs of such bejewelled sandals – and make every step of yours a glittering one!
Go retro – Vintage and retro styles are making a grand comeback. Apart from the timeless 'Little Black Dress', you should also have a few plaid skirts, tops designed in '60s style, and shimmering, bright gowns. As they say, classic styles always stand the test of time.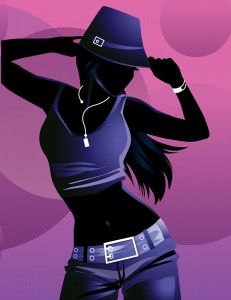 Non-uniform hemlines – Lending an exciting touch to the hemlines of your dresses should not be all about how bold you wish to look. Instead of choosing dresses with high hemlines (which are predicatble, and might not even suit you), go for the ones with assymetrical patterns. In other words, choose such designer, layered summer dresses that end at different levels. Make sure that the difference in hemlines on either leg is not too much though.
Bikinis with floral designs – This summer, set the temperatures soaring, by putting on bikinis with colorful, floral motifs. Instead of the usual varieties, go for the ones with the teeny-weeny skirts. Accessorize with shell necklaces and bright sandals – and give the term 'bombshell' a whole new dimension!
White summer suits – Don't simply assume that suits are meant to be worn during the chilly season. White summer suits and light blazers are rapidly climbing up the popularity charts in the summer fashion trends of 2013. You can team them up with trousers of contrasting colours. If innovative styles attract you the most, wear embroidered shorts, or three-quarter pants with these suits.
Sparkling brooches also feature prominently among the summer fashion trends this year. You can also go for body piercings, to bring about a dash of casual glamour to your appearance. Since most of the summer dresses would be of lighter colors, stay away from dark-shaded lingerie items. You want to stay in the fashion news this summer – but only for all the right reasons!