Why Your Child Should Learn To Dance From A Young Age
Little children have bundles of energy but at a very young age it can be hard to follow the complexities of playing a sport. Dance, on the other hand is a universal language that pretty much all children seem to pick up naturally. Anyone who has ever seen their one year old boogying away to the TV will attest to that!
Kids love moving about, and although the apple of your eye may never turn out to be the next Darcey Bussell, they will have fun listening to music, moving and enjoying being active.
Imagination and Activity
Although being great at football, cricket or volleyball requires a lot of skill, it's hard to argue that playing sport exercises the imagination. Dance provides as much exercise as any sport, but where it differs is that it also provides young children with the opportunity to use their imaginations and play.
Coordination
Dance is a wonderful way to develop coordination, especially in young children whose skills are less developed. Carrying out dance movements requires balance and strengthens muscles, which is a safe way to improve coordination in younger children. With TV dance programmes becoming ever more popular, it's no longer a stigma for young boys to attend dance classes and in the majority of classes they'll burn off ten times the energy they would on the football or cricket pitch.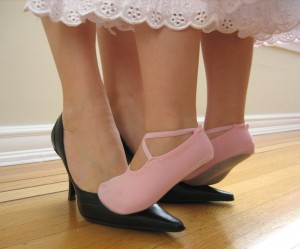 Social Skills
Attending a dance class is a great way for young children to get together and pick up social as well as dance skills. Dance classes require a lot of working together in groups and coming up with solutions to problems. Although some children start dance classes as young as three, it's incredible to see just how astute and grown up they become when surrounded by older children. Dance classes are ideal for building trust, forming friendships and learning to work as a team – all essential skills for life.
Have Fun
Most importantly dance is fun! The majority of parents have seen their toddlers break out the moves spontaneously. Why? Because it's fun. When you send your three year old to a dance class, it's not about pressure, performance or persistence – it's about fun, pure and simple!
If your child is a gifted dancer, all the better, but ultimately they should love what they're doing. If your bundle of joy is becoming a bundle of inexpendable energy then a dance class could be just the tonic you need.
Is my Child Ready for Dance Class?
It can be hard to tell whether your child is old enough to attend a dance class on their own. If you're not sure whether your little one is ready then follow these criteria:
Does your child like music and movement?
Would they be able to attend a class without you there?
Has your child been to preschool or nursery?
Would they be able to listen and follow instructions in a group setting?
Are they out of nappies and potty trained?
If you can answer yes to the above then your child could be ready to begin enjoying exploring their imagination through movement and activity in a dance class.
[author] [author_image timthumb='on'][/author_image] [author_info]Jacquie La Vey has worked as a children's dance teacher at various schools and enjoyed a time as a choreographer on a self-employed basis. She has an undying passion for the arts and currently helps the staff at Rona Hart organise dance productions for students of all ages.[/author_info] [/author]
Featured images: 
License: Royalty Free or iStock
source: http://www.sxc.hu/