Far too often in corporate America today we are witnessing instances when organizations are not prepared for major crises and the resulting reputational and financial impacts that can literally threaten the economic viability of the company, brands it owns and manages, and reputation of senior management.
This article offers a series of key questions that Boards of Directors should consider to ensure that the companies and organizations they represent are fully prepared for the unexpected.
Has the company adequately explored all organizational vulnerabilities that could seriously impact its operations and put its management and/or brand at risk?
Exploring organizational vulnerabilities is the first question that boards need to address in their diligence and oversight. One way to approach the issue is to have a general discussion and determine if senior management and key supervisory executives have listed the company's three or four worst-case scenarios and addressed risks for each. Said another way: "What keeps the CEO up at night?"
Boards need to keep in mind that crises take many forms. A few worst-case scenarios might include a government investigation, sexual harassment case, age or gender discrimination, corporate misconduct, insider trading, a toxic chemical spill, a product recall, industrial accident, union strike, cyberattack or merger gone badly. I'm sure that boards representing companies across a wide range of business sectors can quite easily envision possible high-problem areas in their respective industries.
Does the Company have a fully vetted contingency crisis communications plan in place?
Uncovering organizational vulnerabilities is a critical first step, but the board must follow through and ensure that the company has a contingency crisis communications plan in place. Such a plan should be fully vetted by the board, senior management, other appropriate senior executives, inside legal counsel, and to the extent necessary, outside communications and legal counsel.
In general, boards should look for plans that encompass:
Situation Analysis
Communications Goals and Objectives
Communications Strategies
Key Audiences
Possible Crisis Scenarios
Key Messages/Talking Points
Draft Crisis Holding Statements
Issue Q&As
Communications Protocol
Media Log
Team Contact List
Social Media Contingencies
Remedial Communications Strategies/Plans
The chart below illustrates the major components of a successful crisis management plan.
Does the company have a properly trained crisis management team? Has it explored outside counsel whenever appropriate? Has it conducted a mock crisis drill?
Having reviewed areas of potential vulnerability and becoming satisfied with emergency planning, Boards also need to have full confidence that the company has the senior staff in place to handle the crisis, and that some form of mock drill has been conducted.
While large-cap companies typically have seasoned communications executives on staff, most small- and mid-size companies and non-profits in today's business landscape do no possess this expertise. In cases where there is a gap in talent, Boards need to ask CEOs and presidents if it is appropriate to explore retaining outside counsel. An experienced counseling firm can bring objectivity and focus to the crisis management plan.
Conducting a mock crisis drill is also an essential component of contingency crisis communications planning. Some industry segments, such as airlines, chemical, manufacturing and railroads, have long conducted mock drills to assess their readiness and make necessary improvements. Others need to follow.
Only in this way will the Board be comfortable in knowing that when the worst happens, the company will have done everything in its power to deal with the challenge head on and protect its reputation and brand.
Does the company have a process in place to immediately begin planning remedial activities?
Research indicates that a crisis can sometimes impact an organization's reputation for months or even years. A customer who's eventually satisfied tells 10 to 16 people, on average, about the experience, according to Arizona State University's 2013 "customer rage" study. A dissatisfied customer tells about 28 people.
If a major event occurs, a company must have a process in place to immediately begin remedial work.
These remedial steps are necessary to fully assess corporate/brand damage and develop plans, programs and strategies that specifically address concerns. The key is to begin to rebuild management credibility in the face of a serious issue that has likely disputed operations.
How can this be accomplished? Conducting qualitative or quantitative research is a good place to start. Organizations can utilize focus groups, online surveys, and other targeted research processes to find out what its constituencies are thinking. Data collected from this process can be used in ongoing strategic communications programs to repair reputational damage.
Over time, the organization will need to conduct similar follow-up research to ensure that its messages are getting across and that its audiences are once again beginning to think favorably about the company. Unless remedial steps are taken, organizations run the risk of permanent reputational damage, loss of sales, and in extreme cases even bankruptcy.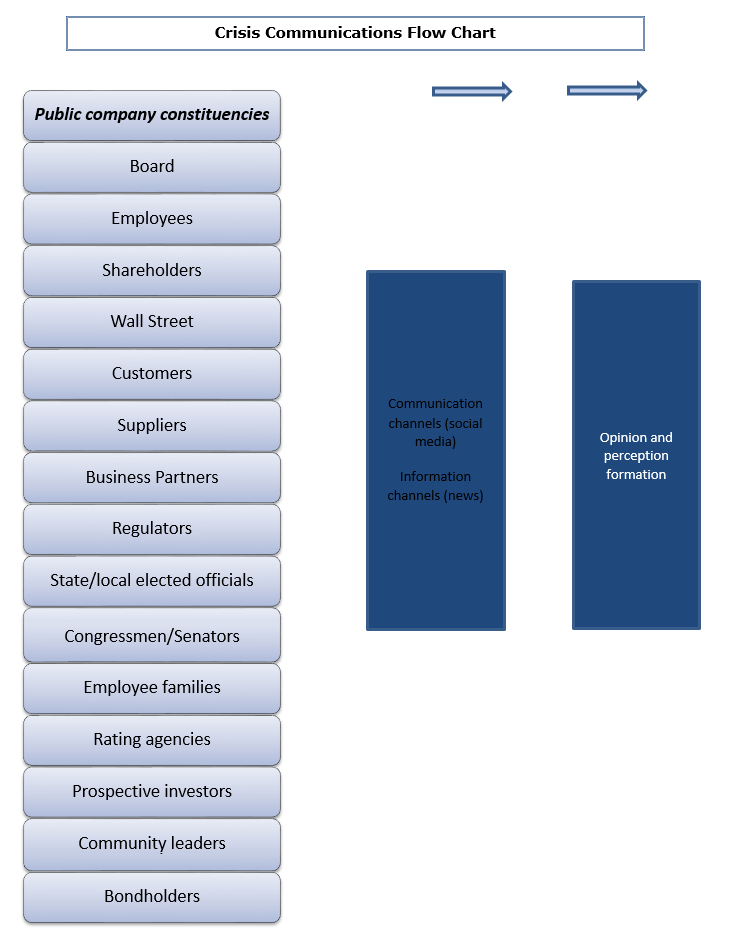 In summary, boards of directors that do not focus on planning for a crisis do so at their own peril. Increasingly, with the advent of more strict controls by state and federal regulators, there is no excuse for lack of preparation. As I have learned over the course of four decades of crisis counseling, it's not a case of "if" a crisis will occur, but "when."